Maile L. Nadelhoffer, Senior Research Economist

---
The median wage for secondary school teachers in Tucson was $38,240 in 2014, substantially lower than their peers in Phoenix and $18,070 less than for secondary school teachers in the U.S. overall. This means that Tucson teachers earned only 68 percent of what their colleagues earned nationally in 2014, and in Phoenix only 84 percent.
As one might expect, teachers earned a whole lot more in San Diego with their median wage of $73,530. Now for something you might not expect: secondary school teachers in El Paso also earned substantially more than they did in Tucson. El Paso's median secondary school teacher wage was $50,800. Phoenix also pays less than El Paso with its median wage of $47,230 (see Exhibit 1).
Exhibit 1: Median Annual Wage for Secondary School Teachers (2014)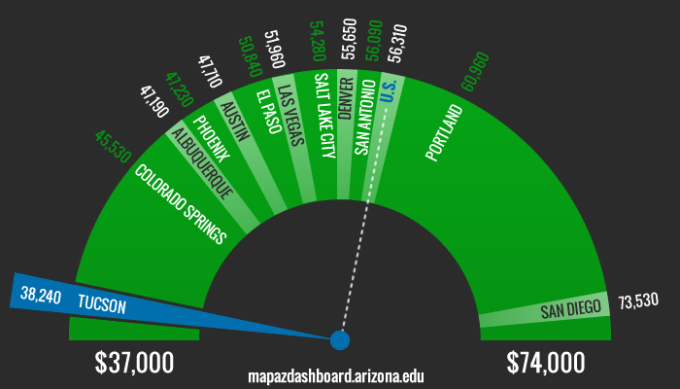 Graphic courtesy  of Making Action Possible for Southern Arizona
A common argument for low teacher wages in Tucson is that the cost of living is less here when compared to other Western cities and to the nation overall. Jennifer Pullen, a research economist at the Economic and Business Research Center in the Eller College of Management and program director for the Making Action Possible Dashboard, adjusted 20131 median wages for secondary school teachers for cost of living across select Western metros and made comparisons. Her team found that, after adjustment, Tucson and Phoenix come in last for median teacher pay among Western metros (see exhibit 2). Pullen's analysis concluded that "when adjusted for cost of living, Tucson teachers earn only 66 percent of what their counterparts in San Diego earn, and in Phoenix 73 percent." Would you go looking for work in San Diego if you thought you could get anything in the neighborhood of a 44 percent raise in real terms? Further, adjusted figures show the median secondary school teacher wage is only 70 and 78 percent of the national median in Tucson and Phoenix, respectively.
Exhibit 2: Secondary School Teacher Wages Adjusted for Cost of Living (2013)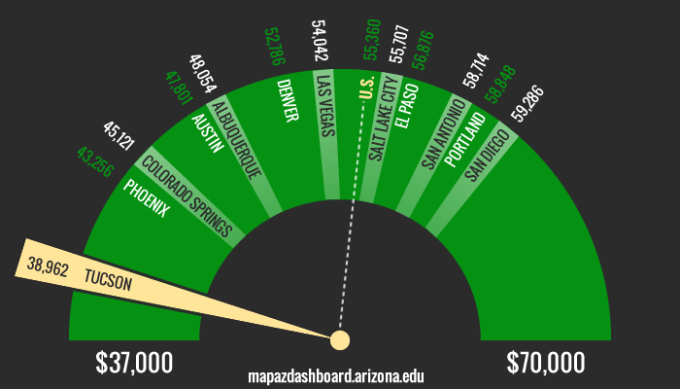 Graphic courtesy  of Making Action Possible for Southern Arizona
Another issue often brought up when teacher wages are discussed is "well teachers earn more than other workers in Tucson."  Yes, median wage of for secondary school teachers in 2014 ($38,240) was indeed higher than the median wage for all occupations ($32,510).  However, as Pullen points out "the all-occupations median wage includes a large number of occupations with low educational requirements."  In the U.S., nearly all secondary school teachers have bachelor's degrees and over half have master's degrees.  As a result, secondary school teachers are expected to earn more than the overall workforce. This is why Pullen's team chose to analyze relative median teacher pay across competitive markets in the West and make cost of living adjusted comparisons.
"Research has shown that providing competitive wages for teachers has a significant effect on the decision to choose teaching as an occupation and remain in the field. Others have noted that insufficient compensation for teachers, in relation to other occupations, may affect turnover and student success"said Pullen.  
Visit the MAP Dashboard's Teacher Wages page for detailed analysis and data on this important topic. Or follow the MAP on Twitter.
Stay tuned for an in-depth report on the state of teacher wages in Tucson on the Making Action Possible Dashboard (MAP). Coming in January 2016.
---
2013 is the most recent year for which purchasing power parity data are available from Census in order to carry out a cost of living analysis.