by Valorie H. Rice
Senior Specialist, Business Information
---
Arizona's over the year job growth was 2.3% in September according to the most recent Arizona employment report released October 20th. The private sector accounted for all of the gains in employment over the year in September, with education and health services leading the way. Job growth in Arizona metropolitan areas: Prescott 6.1%, Phoenix 2.5%, Tucson 2.1%, Yuma 2.1%, Flagstaff 0.9%, Sierra Vista-Douglas, 0.3%, and Lake Havasu City-Kingman -0.2. The unemployment rate for the state dropped to 5.5% from 5.8% in August.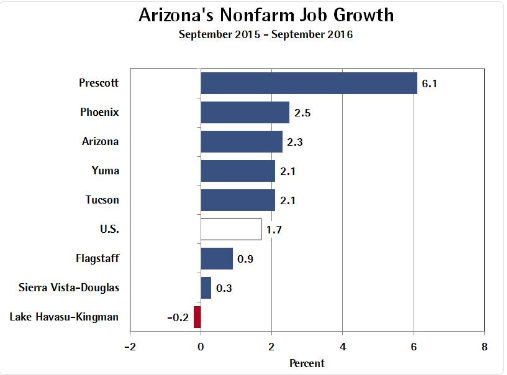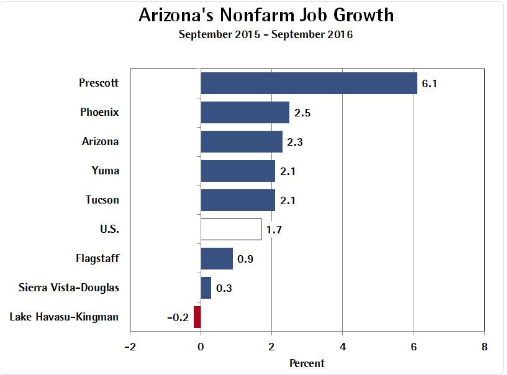 U.S. employment increased by 161,000 in October according to the November 4th Bureau of Labor Statistics release. September employment numbers were revised up (to 191,000 from 156,000) as were August figures (to 176,000 from 167,000). Health care, professional and business services, and financial activities were the industries with the largest gains in employment over the month. The unemployment rate returned to 4.9% after ticking up slightly to 5.0% in September.
The U.S. trade deficit trended down for the third month in a row in September, moving down to $36.4 billion from $40.5 billion in August. Exports were $1.0 billion higher over the month at $189.2 billion while imports decreased $3.0 billion to $225.6 billion in September. Year-to-date, the goods and services deficit was down 2.5% compared the to the same point last year. 
Real Gross Domestic Product increased at an annual rate of 2.9% in the third quarter 2016 based on the advanced estimate released October 28th. In the second quarter, real GDP increased 1.4%. Another estimate for the third quarter based on more complete source data will be released November 29th.
Phoenix home prices rose 5.2% over the year in August, just below the nation at 5.3%, according to the S&P CoreLogic Case-Schiller Home Price Indices released October 25th. Home prices increased the most in the Pacific Northwest, as both Portland and Seattle had over the year appreciation of 11.7% and 11.4%, respectively. New York home prices changed the least at 1.7%.
The Consumer Price Index increased 0.3% over the month for September. Higher prices for gasoline and shelter contributed to the overall increase of the index, while prices for food were unchanged for the third month in a row. The annual inflation rate was 1.5% for the month.
There were 1,247 bankruptcies filed in Arizona during October. This was 12.6% fewer than this time last year. Year-to-date bankruptcies are down 10.4% in the state. The Phoenix office has had fewer than 1,000 bankruptcies per month in eight of the last ten months, a reverse of what there was in 2015.