Browse the PowerPoint presentation from our annual Economic Outlook 2016 Luncheon held  in Tucson on December 9th, 2016. Presenters, Eller's George W. Hammond, Ph.D., Director and Research Professor, Economic and Business Research Center, and Chase Chief Economist Anthony Chan, Ph.D. offer for insight into what's in store for Arizona's economy next year and beyond in a regional, national, and international context.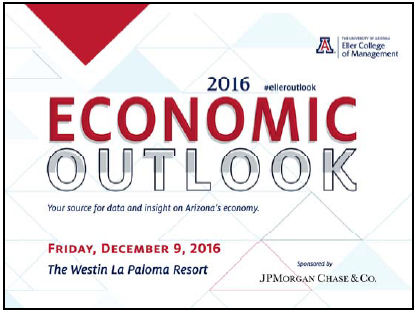 Tucson gains strength. Will it last?
The Tucson economy picked up the pace during the past year, with improved job growth. There is renewed optimism for the future, but will we hit escape velocity or are we already losing steam?
During the past two years, the U.S. dollar has gained strength against most currencies. It is at an all-time high against the Mexican peso and has also risen significantly against the Canadian dollar, our two most important export markets. The strong dollar appears to be putting downward pressure on state exports this year. When will the dollar come back down?
Find out at this annual must-attend event.
We will also offer in-depth analysis on:
Prospects for the strong U.S. dollar and its effect on exports and tourism
Possible momentum in Tucson's residential construction
The outlook for monetary policy and interest rates
What a new presidential administration will mean for fiscal policy
What's ahead for gas prices, consumer spending, and stock prices